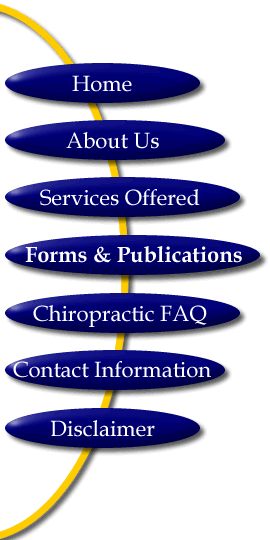 Frequently Asked Questions
About Chiropractic Care
What is Chiropractic?
Chiropractic is a science, philosophy and art that concern itself with the relationship between the nervous system and the function (health) of the body. Chiropractic is based upon the scientific fact that your nervous system controls and regulates virtually every cell, tissue, organ and system in your body.
While the brain is protected by the skull the spinal cord and spinal nerves are more vulnerable as the nerves cross the joints of the spine and other skeletal structures. When these bones lose their normal position or motion they can irritate the nervous system which alters the function of the tissues controlled and regulated by the affected nerves.
Chiropractic is the science of locating these areas of segmental (skeletal) dysfunction, the art of correcting the disturbance and the philosophic understanding that doctors don't do the healing; that the power that made the body, heals the body.1
What does a Chiropractor do?
Your chiropractor checks your spine and skeleton for subluxation.
Subluxation is the scientific name for the segmental dysfunction that distorts the brains ability to communicate with the rest of the body. Just as a flower wilts when the stem is damaged, so, every gland, organ and body function depends on a healthy nerve connection to grow and resist disease. In particular, vertebral subluxation reduces your ability to cope with physical, mental and chemical stresses. Subluxation causes pain, accelerates joint aging (osteoarthritis) and drains your energy.
Each day, millions of delighted patients choose chiropractic over drugs or surgery as a common sense approach to better health.
The most common procedure in a chiropractic office is known as an adjustment. A chiropractic adjustment is the use of a specific force in a precise direction to help normalize skeletal function. Adjustments help return the bones to a more normal position and motion. An adjustment lessens the stress on soft tissue structures such as muscles, ligaments and cartilage, but, most importantly allows the nervous system to normalize. In this way, the body begins the natural healing process.2
Who goes to a Chiropractor?
• Athletes (from Joe Montana to Tiger Woods) turn to chiropractic for peak performance, a safer workout routine and quicker recovery from injury. (See "Our Patients Speak" for some of their stories.) Children get to experience a drug-free approach to health.
• Pregnant woman and infants seek chiropractic care for a more comfortable pregnancy and for a healthier baby, one free of subluxation.
• Office workers who are sedentary often suffer from headaches, neck, shoulder, TMJ and wrist problems (carpal tunnel syndrome).
• Blue collar workers routinely get chiropractic checkups to correct and prevent back, hip and leg problems.
• The elderly look to chiropractic for more energy, improved mobility and to reduce or eliminate the need for medication.
• Families that have a history of spinal curvature or other inherited structural weakness.
• Students have found chiropractic helpful for higher grades, better concentration, improved self-esteem and improved physical coordination.
• Anyone working in one position such as assembly line workers, artists, musicians, dentists, truck drivers and surgeons (even chiropractors) know the benefit of chiropractic care.3
Why is Chiropractic so popular?
Because, Chiropractic is a wonderful method of keeping your neuromusculoskeltal structure intact; this permits your nerves and energies to function without interference so you may be at your physical and mental best. Because Chiropractic is a safe, effective and gentle way to turn on your body's innate healing power. Because Chiropractic is a philosophy, science and art of natural healing.4
Because It Works
Why should I see a Chiropractor?
The reasons why you should have your spine checked include: to enhance your natural healing ability, you don't feel well, you are tired or lack energy, you are pregnant, you had a fall (no matter how long ago), you have shrunk ("I used be 5'10", now I'm 5'8 1/2"), you are under a lot of physical or emotional stress. You should seek help if: your head, shoulders or hips are not level. Other times to have a chiropractic exam is: after dental work, if you use drugs or medications, if you have had any surgery, you work in the same position for prolonged periods (more than 20 minutes in the same posture), if you walk with either toe-in or toe out.5
To improve the quality of your life!
When should I see a Chiropractor?
Most people wait for symptoms to appear before they do something about their health. While this is the more dangerous and expensive way to manage your heath, some signs that it is time for Chiropractic care are: when you feel signs of stress, when you sense a sprain or strain injury, when you are "Just not feeling right."
But the best time to see a Chiropractor is routinely. Most unwanted health conditions stem from underlying neurologic irritation. Only a chiropractor is trained to look for and correct the segmental dysfunctions before being manifest as full-blown symptoms or disease.6
Why should I go to Crum Chiropractic?
Walk into the Reception Room of Crum Chiropractic and you will find people with health problems: asthma, ear infections, colic, pelvic pain, menstrual problems, infertility, back, neck, arm, hand, leg, foot pain, headaches, allergies, arthritis, colds, flu, and other problems. But, you will also find people with more energy, enhanced immune response, greater sense of wellbeing and relaxation.7
Dr. Crum wants his practice members to know that everything we do or say is guided by the idea that everyone is somebody's mother, father, sister, brother, grandparent or child and we care for our patients as if they were our family. Most of our practice members have found the value of that mindset far outweighs any cost in time or money spent in this office.
Crum Chiropractic-We Care for you like family!
References for FAQ 1
• Goss, Charles M. / M.D.: Gray's Anatomy of the Human Body-Twenty-ninth Edition, Lea & Febiger, Philadelphia, 1973
• Guyton, Arthur C. / M.D.: Basic Human Physiology: Normal Function and Mechanisms of Disease, W. B. Saunders, Philadelphia, 1971
• Plaugher, Gregory /D.C. editor: Textbook of Clinical Chiropractic, a Specific Biomechanical Approach, Williams & Wilkns, Baltimore, 1993
• Tickel, Will. /D.C.: Down Right Upright! M & D Printing, 1987
• Sportelli, Louis/D.C.: Introduction to Chiropractic: A Natural Method of Health Care, Practice Makers Products, Palmerton, PA 1988
References for FAQ 2
• Jackson, Robert/ D.C. The Chiropractic Lifestyle, Back Talk Systems, Inc. Golden, CO, 1997
• Koren, Tedd, /D.C.: Chiropractic Wellness: Health From Within, Koren Publications, Inc., Philadelphia, 2000
References for FAQ 3
• Panter, James; Today's Chiropractic May-June 1999 www.todayschirropractic.com
• American Chiropractic Association ACA/FYI Brief Bits January 1994
• Kelly, Steve: Assistant Editor, Dynamic Chiropractic July 1992
Saline, Carol: A Few Good Words About Chiropractic "Philadelphia Magazine", September1998
• Freerks, Heidi: ICA International Review of Chiropractic, May/June 1989
• Ronaghy, H.A. /M.D.: HMOs Gambled With My Patient's Life "Medical Economics" June 04, 1990
• Koren, Tedd, /D.C.: Chiropractic Wellness: Health From Within, Koren Publications, Inc., Philadelphia, 2000
• Jackson, Robert/ D.C. The Chiropractic Lifestyle, Back Talk Systems, Inc. Golden, CO, 1997
• Anrig-Howe, Claudia/D.C.: Chiropractic Approaches to Pregnancy and Pediatric Care
• Plaugher, Gregory /D.C. editor: Textbook of Clinical Chiropractic, A Specific Biomechanical Approach, Williams & Wilkns, Baltimore, 1993
References for FAQ 4
• Matarese, Emil L. /M.D.: Personal letter to Dr. Crum 1991
• Soyring, Ces/ C.A.: Remembering the Wilk's Case "Chiropractic Products" August 1987
• Soyring, Ces/ C.A.: Medicine, Monopolies and Malice by Dr. Chester WIlk-A Book Review, "Chiropractic Products" November 1987
References for FAQ 5
• Haldeman, Scott/D.C.: Modern Development in the Principles and Practice of Chiropractic, Appleton-Century-Crofts, Appleton, WI 1980
• Jackson, Robert/ D.C. The Chiropractic Lifestyle, Back Talk Systems, Inc. Golden, CO, 1997
• Koren, Tedd, /D.C.: Chiropractic Wellness: Health From Within, Koren Publications, Inc., Philadelphia, 2000
References for FAQ 6
• British Medical Journal: June 02, 1990, pp1431-1437
• Journal of Manipulative and Physiologic Therapeutics, August, 1989
• Wolk, S.: An Analysis of Florida Worker's Compensation Medical Claims for Back-Related Injuries. Foundation for Chiropractic Education and Research, Arlington, VA, 1988
References for FAQ 7
• Crum, S. Brian/D.C. Office Procedure Manual-Crum Chiropractic, 2005
• Koren, Tedd, /D.C.: Chiropractic Wellness: Health From Within, Koren Publications, Inc., Philadelphia, 2000
• Tickel, Will. /D.C.: Down Right Upright! M & D Printing, 1987